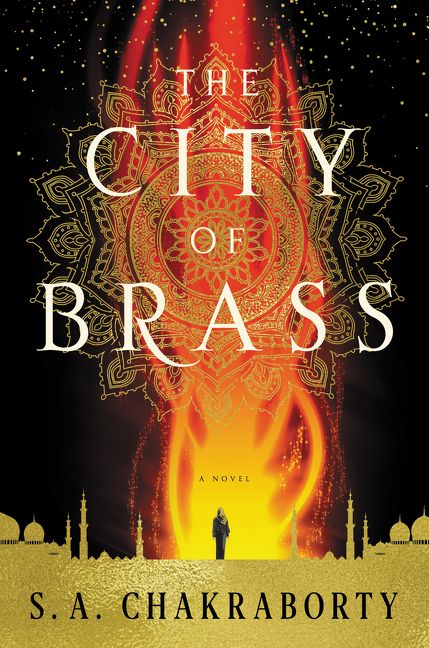 The City of Brass by S.A. Chakraborty is an #OwnVoices Islamic adult fantasy novel and the first instalment in the Daevabad Trilogy. I've owned this book for over a year (maybe two) now, and the I finally decided to pick it up because one of my favourite book bloggers… Hell, one of my favourite humans ever has been yelling about it so much that I couldn't really ignore it any longer. Also, the third book shall be releasing in a few months, so if I do end up becoming obsessed with it, I won't have to wait 10,000 years for the ending, unlike some other epic fantasies I know of that's written by old, white dudes that like to kill their fans slowly with annoyed anticipation.
If you'd like a synopsis for this book, you can check out it's GoodReads link by clicking on the title above. Since I'm only 100 pages into it, I don't feel comfortable providing one of my own quite yet.
Y'all, this book has slayed me and I'm only one-fifth of the way through the damn thing. If you want my honest-to-goodness first impression of the book, it's this, "Nahri is so sassy. Omg, I love it." I believe this is also floating around somewhere on my Twitter feed.
Nahri is the main character of the book, or at least one of them, and the first few chapters take place from her perspective. She's a very interesting character because you can tell that her saltiness comes the circumstances of her existence, which aren't nice. She's had a difficult childhood and now young adulthood. But I also believe a lot of her fierce independence comes from fear. A fear of trusting others and allowing them to get close to her. Fear of what the unanswered questions of her past may inevitably mean for her future. Because of that, I'm just loving her so much. Honestly, she may become one of my favourite bookish females.
Another character that I love and hate (a tiny bit) is a Daeva named Dara. This fool… is a goddamned fool. (I know, such a brilliant piece of writing right there.) He can be such a whiny baby and while I want to laugh at him most of the time, I also just want to smack him upside the head. I roll my eyes and facepalm so much when he's in the scene. Dara does seem to be a series favourite, at least that's what I've gathered from my loud chum (love you, Aimal) and other folx who have been yelling about Daevabad on the socials, but I have a feeling there's a bigger asshole on the way that I may end up swooning over. It's my curse, to fall for the villainy bastards. What can I say?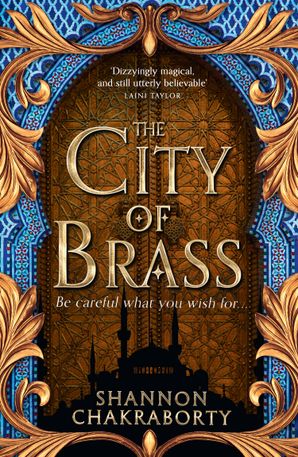 Aside from the characters, I'm fucking obsessed with the writing. It's just so beautiful and so well-crafted. The world-building is vibrant, sweeping, and imaginatively rich. The representation of Islam and South/South West Asian cultures and practises is stunning. When Nahri talks about her clothing, or when another character spoke of doing rakat at the local mosque, I felt so comforted and elated. My whole body and mind have been waiting for this kind of representation in fantasy since before I was born (don't ask, it makes sense in my head and heart, okay, don't judge me). So much diversity and so much originality and so much fucking gorgeousness, I love it.
In terms of the story, I can't say much because as I mentioned above, I'm not very far into it. I can see the foundation being laid down for a grand adventure to come, and I have my suspicions as to what they'll be about, but I'm not comfortable voicing them just yet. Nevertheless, I will say that the pacing is supremely comfortable with the perfect balance of details. I can visualise what is happening and what's about to happen, but there's enough mystery to it that my own imagination gets to stretch its muscles a bit. Trying to predict where the story will go is half the fun of reading fantasy narratives, and in The City of Brass the possibilities are vast.
All in all, my first impressions of The City of Brass are damn good ones. Let's hope that when I'm finished with it, if I still love it this much (I probably will, who are we kidding), my review won't be just a string of incoherent gushing because that is pretty much all I want to do. I won't lie.
If you've been wanting to pick this up, but haven't for whatever reason, I'd say go for it. I'm really regretting that I waited so long to read this. The hype had me worried, however, in this case I feel the hype is worth every fricking drop.